National Title 50th Anniversary

National Title 50th Anniversary – Withers 200MPH Mangled Mess
Two cars line up, the engines rev and the crowd roars as Graham Withers enters the track tyres smokin'. In Ampol colours, Red, White and Blue, the GT-Rail Dragster in a spectacular wheel-stand entertain the mob as Withers, Australia's first full-time Professional Drag Racer sets his sights on victory in his front engine 392 Chrysler Supercharged Hemi slingshot, which Withers designed and built himself. Withers seeking new sponsorship teamed up with Ampol and a legend was born.
'It was Big Daddy Don Garlits, Florida, who was always at the leading edge of innovation in Top Fuel Drag Racing in the USA who influenced my driving. I had the will, drive and determination to be the best and challenge the norm's', says Wither.
The 3 November 2018 marks the 50th Anniversary of Withers three wins across 1966-67-68 making him a National Hero across Australia through the live television broadcasts at the time. There were no points system during the early years, it came down to the best driver on the day. Withers was the first Top Fuel driver to win the three events in consecutive years and this made him a legend at that time and created quite a stir. It is now 50 years since that historic moment at Calder Park Raceway.
When Keith Williams, the developer (Hamilton Island, Sea World etc.) offered appearance money to compete at his venue, Surfers Paradise International Raceway I knew Drag Racing was going to be more than just a hobby for me, says Withers.
Withers made the Sun newspapers front page after a miraculous escape while crashing at 200 mph at Calder Park Raceway. The accident was not his first or last incident; however other competitors were not happy with the domination of Withers, they sought for his removal. The Australian Hot Rod Federation established in 1966 (AHRF) intervened and sidelined Withers with no right of appeal. This situation would never happen today. A fierce competitor and dedicated engineer, it wasn't long before he was back in his dragster to claim his three titles. Withers fondly remembers winning the first of his titles and describes it as his best experience.
The early days were frustrating as AHRF catered for both Show/Street and Drag Racing facets of the Sport. It was obvious Drag Racing was becoming a popular sport and required a new direction. Drag Racing set up their own organisation and Australian National Drag Racing Association (ANDRA) was formed in 1971.
I asked Withers if he did any other sports as a youngster, his reply, 'no, as I wasn't very sporty, so I built model aircraft and boats. However, my favourtie childhood race car driver was Circuit Racer Norm 'Stormin Norman' Beechey'.
After retiring from Top Fuel Drag Racing, Withers opened an automotive components parts business know as Graham Withers Speed Shop in 1972 where his many fans would stop by for a chat and advice. The shop in Cheltenham became Australia's largest high-performance speed shop. Withers diversified into manufacturing where he designed, developed and patented his World-First High-Performance All-Steel Crankshaft Dampers.
Now 77, and with 95 per cent of PRO/RACE business in the USA, today Withers (President) sits at the helm of PRO/RACE Performance Products and continues to do business manufacturing and selling Dampers to Ford, General Motors and others in the USA and Australia. His range of Dampers includes PRO/STREET and SFI Spec-18.1 Certified PRO/RACER and PRO/SPORT.
Withers says, 'If you have a passion for an activity, go for the challenge to be the best in your field'.
The Australian National Drag Racing Association would like to congratulate Graham Withers on his National Title 50 year anniversary.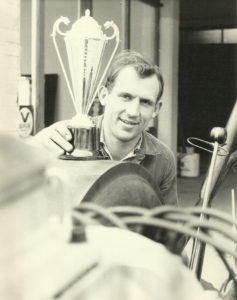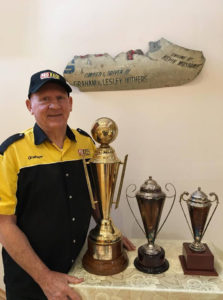 Written by Pauline Csuba MA(ProfWrit), Student, BA(ProfWrit/Journalism), Swinburne, DIP(PWE), CertIV(PWE), Box Hill Institute.
Writer/Freelance Journalist
Executive Personal Assistant to Mr Graham Withers.
Director- Graham Withers Charity Limited.
https://pro-race.com/wp-content/uploads/2018/11/Budget-Traveling.png
720
1280
Austin S.
http://pro-race.com/wp-content/uploads/2020/01/prorace-hd2019-300x168.png
Austin S.
2018-11-07 02:28:14
2018-11-07 02:32:47
National Title 50th Anniversary